Khaos @ The Old Post
Round 2
7/20/19
The Old Post
Burlington, VT
8 PM
21+ // NO COVER
Silent Mile // Discount Face Tattoos // Slightly Used // +1 TBA
8/8/19
Gloom Garden
Winooski, VT
7 PM
All ages welcome
BYOB
No assholes
$5 donation for touring band recommended
8/16/19
City Limits
Vergennes, VT
9 PM
21+ // Donations welcome
We're playing this show to raise money for Brooklyn to get the treatment she needs to kick leukemia's ass!

Winooski Anvil Co. // Slightly Used
8/20/19
The Monkey House
Winooski, VT
Details TBA
We Came, We Saw, We Rocked
1/4/19
Monopole
Plattsburgh, NY
We got the chance to play our first gig with the new lineup when a band was needed at the Monopole in Plattsburgh, NY to fill a last minute cancellation. We happily obliged and started the night off with the debut of our first four songs off our upcoming album. Old North End, Silent Mile and Voices In Vain kept everyone rocking until the end of the night.
Out Of The Basement & Into A Blizzard
01/19/19
Backstage Pub
Essex Junction, VT
On the eve of the biggest snowstorm of the year we played the Backstage All Star Jam with several other great local acts. This show saw the debut of our newest song, Blue Balls Blues.
"We really felt the love and support of the local music scene. Everyone kept telling us how fun our music is and that they can't wait to hear more from us."
-Stevo
Gloom, Doom & A Split Wig
1/31/19
Gloom Garden
Winooski, VT
On a bone chilling Thursday night we got things rolling when we opened up for our friends Old North End and No Son Of Mine in Winooski, VT. Everything was going well until Stevo didn't look up and split his head open going up the stairs. A few hours (and a couple of staples) later he made it back in time for the end of the night.
*They've since then added a layer of padding to the door frame so no one else has to get their head stapled.
Louder Than A Freight Train
2/9/19
Windsor Station
Windsor, VT
We made the trek down to Windsor, VT to open for our good friends the RoadTrash Band at the old Windsor train station. We're looking forward to our next trip down that way.
2/23/19
Monopole
Plattsburgh, NY
We got invited back to the Monopole to open up for Scavengers and Doomfuck. No one expected what would happen when we took to the stage. We ripped into our first song, the never before heard Fireball & Brimstone, and proceeded to bring the house down around us, setting the bar high for the rest of the night.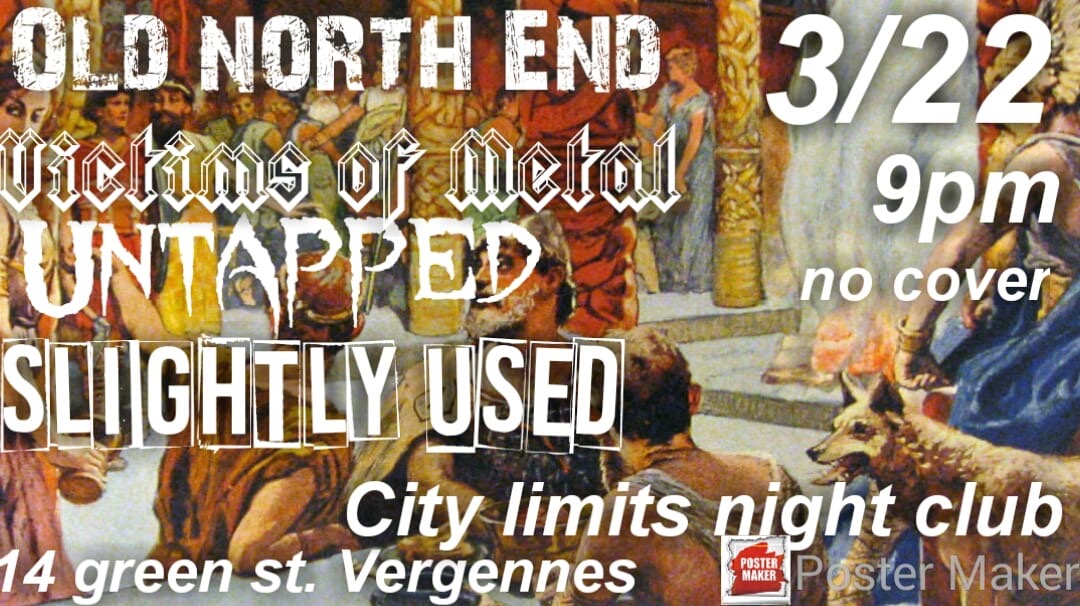 3/22/19

City Limits Night Club
Vergennes, VT
Yet another snowstorm to play in……we made our way down to Vergennes to play a show with our friends in Old North End and had a great time. We made some new friends that night too!
Full Metal Jacket
Episode 2
4/10/19

BluVudu Productions
Morrisonville, NY
Stevo & Hodge were guest hosts on Plattsburgh's hottest new punk & metal internet show alongside host John Bradley. Much fun was had and lots of fuckery ensued. The boys were a little hungover the next day…
To relive the fuckery copy/paste this link into your browser: https://www.pscp.tv/w/1MnxnvRZmXExO
Lord Silky // Abaddon // Slightly Used // Boil the Whore
4/20/19

JP's Pub
Burlingon, VT
Ah 4/20……the holiest of days. What better way to celebrate than with a night filled with face ripping metal, right? Boil the Whore and Abaddon kicked things off before Lord Silky tore the roof off the joint. Slightly Used very nervously brought everyone back down to Earth for the end of the show. What a night…

"What do you mean we can't swear?!"
5/1/19
Big Heavy World
Burlington, VT

We performed several songs live on the air for the first time at a local station, and needless to say we were a bit nervous. Miraculously not one dirty word was uttered and we weren't asked to leave the studio like we thought we would be.
May The Fourth Be With You
5/4/19

The Old Post
Burlington, VT
Our biggest show yet, Slightly Used closed out the show to the biggest crowd we've ever had.
"Everyone had this shit eating grin on their face and they were singing along to every song. Best fucking show ever, dude, it was awesome!" -Stevo
"Todd, check it out, they spelled Khaos wrong."
5/17/19
City Limits Night Club
Vergennes, VT
Back in Vergennes again, an awesome time was had by all. And this time we weren't playing in the middle of a blizzard!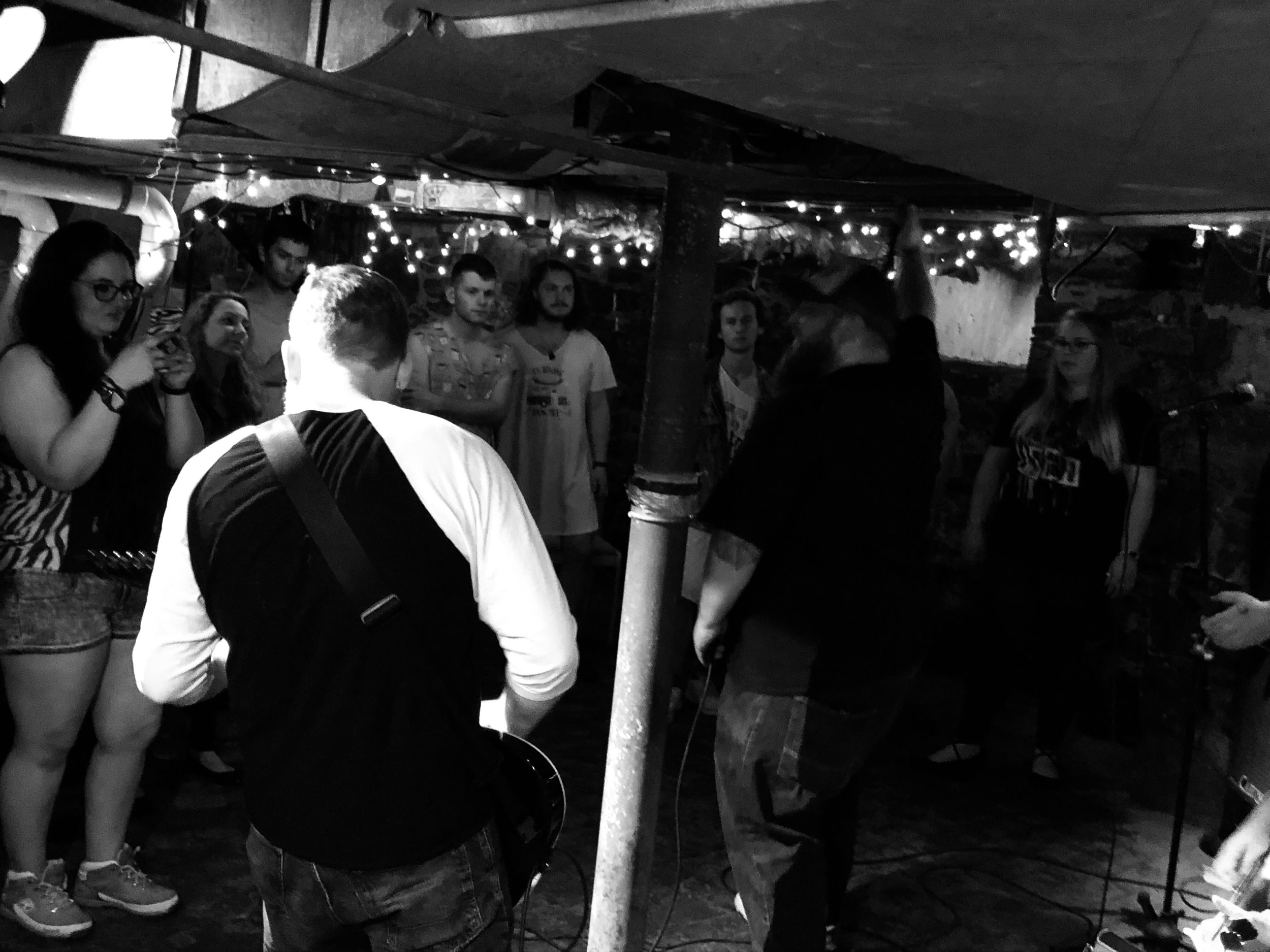 Coagulate // Slightly Used // Silent Mile
6/2/19
Jim's Basement
Burlington, VT

They say there's a first time for everything……well that night was the first time we ever played to a crowd where half of them were wearing moo moos.
Full Metal Jacket
Episode 10
6/12/19

BluVudu Productions
Morrisonville, NY
We were invited back to perform a full set for the first ever live performance on FMJ. As is tradition when we go to Plattsburgh, we proceeded to get hammered with our good friend John Bradley. You don't fucks with traditions…