Lord Silky // Abaddon // Slightly Used // Boil the Whore
4/20/19
JP's Pub
Burlingon, VT
10 PM
21+ only
NO COVER

May The Fourth Be With You
5/4/19
The Old Post
Burlington, VT
8 PM
21+ to enter
NO COVER
5/17/19
City Limits Night Club
Vergennes, VT
9 PM
21+ to enter
NO COVER
We Came, We Saw, We Rocked
1/4/19
We got the chance to play our first gig with the new lineup when a band was needed at the Monopole in Plattsburgh, NY to fill a last minute cancellation. We happily obliged and started the night off with the debut of our first four songs off our upcoming album. Old North End, Silent Mile and Voices In Vain kept everyone rocking until the end of the night.
Out Of The Basement & Into A Blizzard
01/19/19
On the eve of the biggest snowstorm of the year we played the Backstage All Star Jam with several other great local acts. This show saw the debut of our newest song, Blue Balls Blues.
"We really felt the love and support of the local music scene. Everyone kept telling us how fun our music is and that they can't wait to hear more from us." - Stevo
Gloom, Doom & A Split Wig
1/31/19
On a bone chilling Thursday night we got things rolling when we opened up for our friends Old North End and No Son Of Mine in Winooski, VT. Everything was going well until Stevo didn't look up and split his head open. A few hours (and a couple of staples) later he made it back in time for the end of the night.
Louder Than A Freight Train
2/9/19
We made the trek down to Windsor, VT to open for our good friends the RoadTrash Band at the old Windsor train station. We're looking forward to our next trip down that way.
2/23/19
We got invited back to the Monopole to open up for Scavengers and Doomfuck. No one expected what would happen when we took to the stage. We ripped into our first song, the never before heard Fireball & Brimstone, and proceeded to bring the house down around us, setting the bar high for the rest of the night.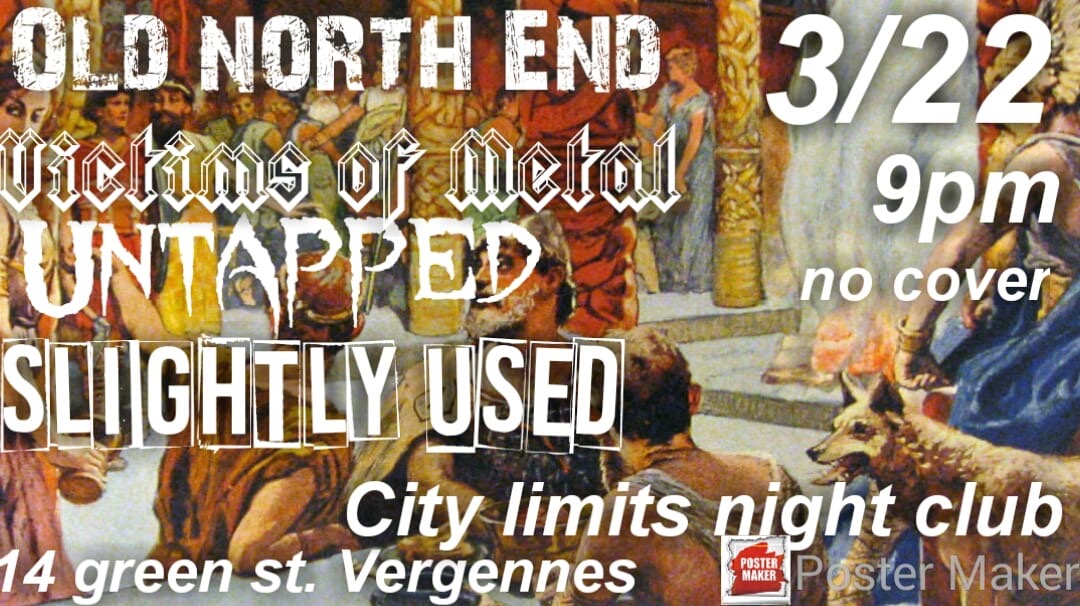 3/22/19
City Limits Night Club
Vergennes, VT
9 PM
21+ to enter
NO COVER